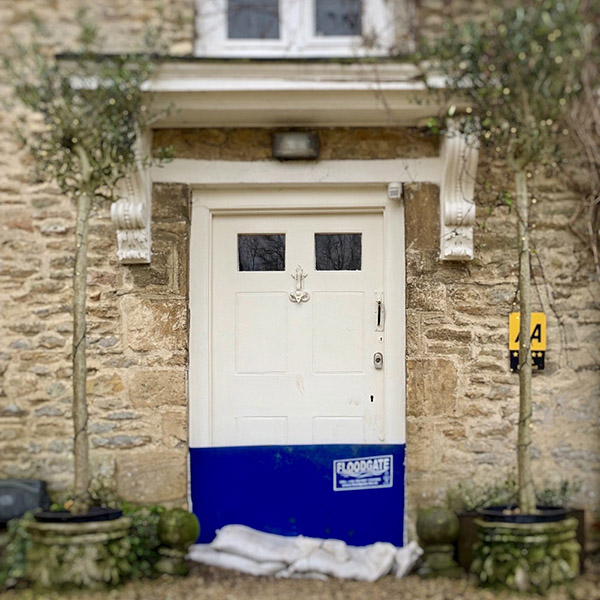 How to protect and conserve your antique furniture as the floodwaters rise
Our antique furniture flood advice is a brief overview of precautions you can take to preserve your possessions.
In an ideal world, your antique furniture and fine art would not come into contact with water. If there is a chance that you might be affected by flooding, call on whoever you can to move your antiques and fine art to the high point of your property. Where this isn't an option, try to at least raise them out of the path of any deluge of water. This includes art and sculpture as well as the more obvious, larger pieces of antique furniture.
Antique Furniture Flood Advice: What to do if your home becomes flooded
If you are unable to move the items from harm's way, you should move your antique furniture out of the flooded areas as soon as possible. The longer they stand in the water, the more damage that will occur.
Often the floodwater contains bacteria and other biological matter, so we suggest rinsing the furniture with clean water followed by household bleach diluted 40:1 in cold water (approximately 1 cup of bleach to a standard bucket of water). It is important to wipe off any excess water and bleach solution.
Drying your furniture
Restoration and conservation cannot take place until the drying process is complete. Reducing the moisture of your antique furniture after flooding is essential, but must be done with care.
If your furniture dries out too quickly, you are likely to cause as much damage as in the flood itself. This is particularly important when considering the use of a dehumidifier often recommended by household insurers.
How to dry your furniture
For case furniture:
Make sure that all the drawers are empty and free from any lining
paper as this will slow down the drying process.
It is good practice to leave the drawers open to allow airflow but,
better still if you have space, leave them out completely on a flat surface.
The ideal drying climate is around 15-18°C, out of direct sunlight
with plenty of air circulation at 50%-55% relative humidity.
For veneered furniture:
We recommend in most instances that the veneers are clamped flat to the piece whilst in the drying process.
Things to avoid:
Rapid changes in temperature or humidity.
Leaving your furniture next to a de-humidifier, radiator or in
direct sunlight. This will increase the chance of your furniture cracking or splitting.
Know your restorer and conservator
It is important to carefully think about the value of your antiques and make an assessment of what they are worth as this is usually what governs whether or not the pieces will be restoration/conservation.
Where pieces have been involved in a flood, we often see that little care is taken to save original finishes by the typically appointed insurance 'restorers'. Spray lacquer finishes and irreversible adhesives are often used (for cost reasons) rather than the traditional methods and materials. This should be avoided at all costs. It can have, in our experience, a detrimental effect on both the future conservation and value of the piece(s) concerned. This is particularly relevant for pieces older than c. 1900, where more traditional construction methods were typically used.
About Alexander George Fine Antiques
Based in the Cotswolds, we specialise in fine antique furniture and art. Originality and authenticity are paramount; using our extensive knowledge from many years' experience in furniture conservation and restoration, we complete high standard and professional conservation, restoration and advisory services for both private collectors and members of the antique trade. Please contact [email protected] or visit our website for further details.
---
Please note that this guide: 'Antique Furniture Flood Advice' is general information designed to help inform owners of fine art and antiques. Prior to undertaking any action, we recommend seeking professional advice specific to the piece concerned. Accordingly, we do not accept any responsibility for the outcomes where this advice is implemented without seeking our advice on a case-by-case basis.