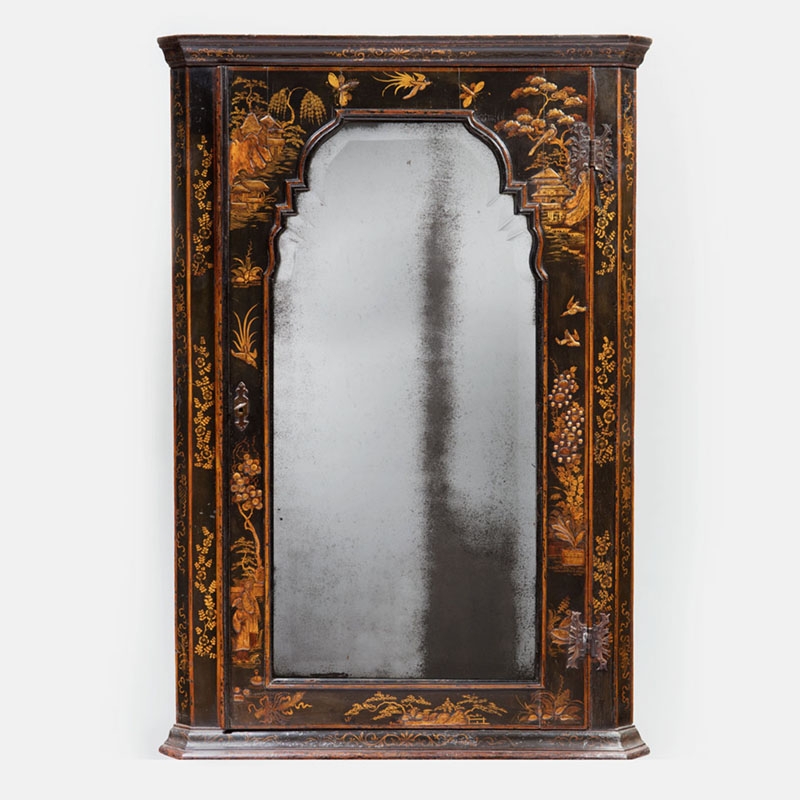 Important Queen Anne Chinoiserie Corner Cupboard by John Coxed, Sold To An Important Private European Collection…
Six pieces of furniture bearing John Coxed's labels have so far come to light, and they bear two different styles of label to which this is thought to be the earliest version. This corner cabinet is not only one, of the only now three known examples of the earliest form, but also the only recorded Japanned and chinoiserie piece by John Coxed (1711-1718). It is assumed that this label dates from 1711-1715 and the later version' from 1715-18. This allows us the rare opportunity to accurately date this unique piece, to sometime between 1711-15.
Typically, Pieces by the outfit are veneered in walnut, mulberry or burr elm and stained to resemble tortoiseshell. Some pieces are embellished with kingwood cross-banding and pewter stringing. This metal line inlay was almost certainly due to the influence of Gerrit Jensen, who introduced such fashionable Continental habits into England in the late 17th century.
All known pieces by Coxed and Woster are in important private collections and museums, to include, The V&A Museum, Colonial Williamsburg, Rousham House and Alexander George Fine Antiques Ltd.
John Belchier, also operated from the Southside of St Pauls Churchyard, just a few doors down from Coxed in the first quarter of the 18th century. The earliest reference to John Belchier can be found in the accounts of Boughton House, between 1687 and 1710. Belchier, is most famous for his Chinoiserie work and it is possibly or even highly likely, that it was he who undertook the chinoiserie work of this corner cabinet.
Interestingly, the label from this piece has been illustrated three times since it was first published by C. Gilbert in the 'Pictorial Dictionary Of Marked London Furniture 1700- 1840'. However, this is the first time it has been recorded correctly, as C. Gilbert made an error stating that it was from a walnut cabinet at temple Newsome House and the information was simply lifted and used in publications to follow.
The label is illustrated in the following publications:Pictorial Dictionary Of Marked London Furniture, 1700- 1840', page 153, fig 236, by leading furniture historian Christopher Gilbert.
Labelled Furniture From The White Swan Workshops In St Paul's Churchyard (1711-35) By Adam Bowett and Laurie Lindey
Apprenticeship's In The London Joiners Company 1640 – 1720 By Laurie Lindey 'Furniture History Society'